2012 MAXC Racing – Round 3 – Challenge – ATV Race Report
Ryan Lane Wins, Kevin Cunningham & Jay Humphrey Round Out AA Class Podium
MAXC Round 3 – Challenge
ATV Racing Links
Casey, IL (6/11/2012) – The 2012 AMA MAXC ATV / UTV Racing series headed west to Casey, IL for round 3 of the ten round racing series. There, Ryan Lane took both the afternoon overall and AA Quad Class win aboard his DC Motorsports Honda 450R ATV. Ryan Lane was joined on the podium by 2011 AA Quad Class Champion Kevin Cunningham and a new face to the Afternoon Overall podium, Open A Class racer Brycen Neal.

Lincoln Trails Motorsports played host to AMA Blingstar MAXC Racing Series Rd 3
Lincoln Trails Motorsports was the hosting facility for AMA MAXC ATV / SxS Racing Series round 3. Lincoln Trails Motorsports is known for their top-notch motocross tracks; which were incorporated into the 6 mile track. The course featured a nice mixture of tight woods, open fields, hill climbs, creek crossings, and motocross sections. The weather conditions were hot with temperatures staying in 90s throughout the weekend Although, there was a light breeze, the track did get dusty in some spots which made for some interesting racing.
Fasst Co's Jay Humphrey grabbed the AA Quad Class Holeshot
In the AA Quad Class, Jay Humphrey took the early lead by grabbing the Holeshot on his Penny Pinchin' Racing Honda 450R ATV. J. Humphrey was able to hold down the lead the first lap but fell back to third before crossing the finish line.
Despite starting dead last, Ryan Lane was able to make his way though the dust and lapped traffic to cross the finish line in first.
"We just couldn't get the bike warmed up good and it wouldn't start. We were fighting for last and I knew I needed to get to the front as quick as I could because of the dust was going to be a problem and it sure was. " Said Ryan Lane
Precision Racing's Ryan Lane worked his way up from the back of the pack to win the Afternoon overall & AA Quad Class
Joining Ryan Lane on the podium was #2 Kevin Cunningham in second. Cunningham didn't get the greatest start either as he also experienced starting issues. Cunningham was able to get his ATV started placing him second to last in front of Ryan Lane on lap one.
Spider Graphix Sponsored Rider Kevin Cunningham finished second at AMA Blingstar MAXC Round 3 at Lincoln Trail Motorsports
"The bike didn't start and I was about third off the line and Ryan (Lane) was behind me. He got around me at the first creek section when he blasted through it. I just ate dust the first couple laps and I finally got a groove going and I put the charge down and started passing them. I got close to Ryan and we put the hammer down." Said Blingstar's Kevin Cunningham.
A new comer to the Afternoon Overall Podium was #17B Brycen Neal. Neal was able to grab the win the Open A Class and take the final spot on the overall podium aboard his Honda 450R ATV. Neal ran one of the quickest lap times of the day matching AA Quad Class winner Ryan Lane.
"The track was defiantly dusty, and I really liked the Motocross track. The track really flowed well and I had a ball out there trying to chase them down" stated Brycen Neal.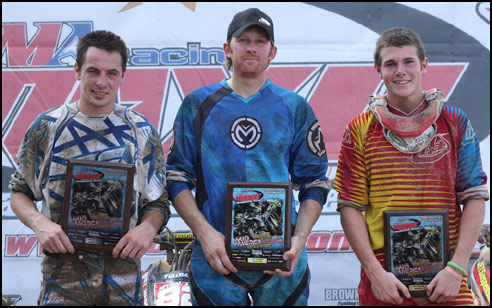 AMA Blingstar MAXC Afternoon ATV Podium (left to right)
Kevin Cunningham (2nd), Ryan Lane (1st), Brycen Neal (3rd)
#30 Fred Marley from Osgood, IN and #385 Braden Nichols rounded out the Open A Class podium at Lincoln Trails Motorsports MAXC Round 3.
In the B 15-24 ATV class #41 Ben Krafft from St. Joe, IN took the win followed by Honda rider #93 Michael Marley, and #430 Kellan Alspaugh in third.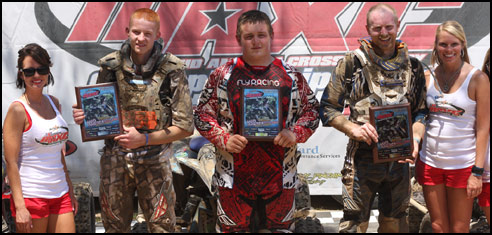 AMA Blingstar MAXC Morning Overall ATV Podium (left to right)
Eric Kroger (2nd), Jacob Ripley (1st), Cody Fox (3rd)
#328 Jacob Ripley took the win in the C 15 -24 Class with a time of 1:51:48. Ripley was joined on the podium with #911 Eric Kroger and #814 Cody Fox who placed first and second.
| | |
| --- | --- |
| | |
| #328 Jacob Ripley grabbed the Holeshot & the win in the C 15-24 Class | Jet Suspension's Eric Kroger placed second in the C 15-24 Class |
The competition in the Youth ATV classes was once again fierce at AMA Mid America Cross Country Challenge Round 3.
In the 90cc Production Quad Class, Michigan racer #898 Isaiah Silverthorn took the win aboard his Apex Youth ATV. Matt Muskopf from Trenton, OH placed second and #19 Sadie Welch rounded out the podium in third.
| | |
| --- | --- |
| | |
| #898 Isaiah Silverthorn won the 90cc Production Quad Class aboard his APEX Youth ATV | #8 Bryce Enright took another win at AMA Blingstar MAXC Round 3 in the 90cc Limited Quad Class |
#8 Bryce Enright charged hard though the dust winning 90cc Limited Quad Class by almost 3 minutes ahead of second place #501 Bo Martin. #99 Tanner Greene would round out the 90cc Limited Class in third.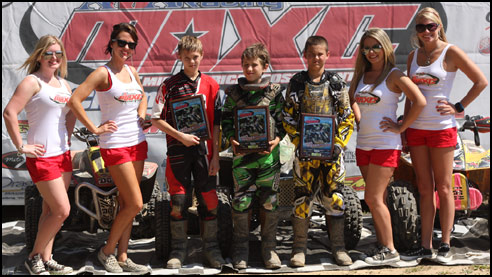 AMA Blingstar MAXC Youth Overall ATV Podium (left to right)
Matt Muskopf (2nd), Isaiah Silverthorn (1st), Bryce Enright (3rd)
The AMA Blingstar Mid America Cross Country Racing Series will head to Lawrence Country Recreational Park in Springville, IN for round 4 on June 17, 2012. This round will mark the 2nd Annual Race Miracle Race for Riley Children's Hospital where all the proceeds will benefit children in need.
On Saturday June 16th, there will also be the 3rd Annual Trail Ride to also benefit Riley Hospital for Children. There ATV and Side-by-side riding all day with a live band at night. Last year MAXC was able to raise over $20,000 and this year the goal is to raise $50,000. Come on out, have fun, and help benefit Riley Children's Hospital.