2012 MAXC Racing – Round 6 – Monster Mountain – ATV Race Report
DC Cycles' Ryan Lane Wins AA Class , Kevin Cunningham, & Braden Henthorn Podium
MAXC Round 6 – 
Monster Mountain 
ATV Racing Links
Canaan, IN (8/14/2012) – The 2012 Blingstar AMA MAXC ATV Racing Series headed to southern Indiana for Round 6 in Caanan, IN for the Monster Mountain ATV Race. There, Mid America Cross Country Series AA ATV Class points leader Ryan Lane would take another win to extend his points lead, while Blingstar's Kevin Cunningham and GNCC XC2 Pro-Am rider Braden Henthorn would battle side-by-side down to the finish line.Almost prefect riding weather greeted racers at the MAXC Round 6. With temperatures staying in the 70's most the day racers had great weather conditions to experience a new venue on the 2012 MAXC Racing Series.
Taking place no more than 15 minutes down the road from the 2012 MAXC opening round location, the track was similar to the Sparta GNCC venue. The location featured a cleared hilltop with plenty of mowed grass parking which acted as the central hub of the action Saturday. The track consisted over 6 miles of virgin trails, open field sections, rocky creek bends, and many hill climbs.
Ohio native Braden Henthorn made the trek to Caanan, IN to get in some extra seat time during the GNCC summer break. This was Hentorn's first appearance at MAXC and he gave some new competition to the usual AA Class lineup.
DeRisi Racing's Braden Henthorn grabbed the AA Class holeshot at Monster Mountain
Henthorn grabbed the early lead by taking the AA class holeshot aboard his DeRisi Racing backed Honda 450R ATV.
"The race was a lot of fun, pretty tight but there was a lot of good guys to rip with out there I had a good time, just wish the track was opened up a little more would of made for a better race I think, most of us were just fighting to stay out of the trees!" said Braden Henthorn
GNCC XC2 Pro-Am Racer Braden Henthorn placed third in the AA Class at AMA Blingstar Mid America Cross Country Round 6
Henthorn kept a steady pace through the entire race running in the top three. Henthorn was second in the AA class when Kevin Cunningham began nipping at his heels.
It came down to the last corner and around 10 yards before the finish line when Kevin Cunningham decided to go for the pass. Cunningham was able to make the pass making one of the most interesting finishes yet this season. Cunningham would place second in the AA class followed closely by Braden Henthorn.
Despite getting a bad start Blingstar's #2 Kevin Cunningham worked his way up to second in the AA Class before crossing the finish line
After having some mechanical issues in the last round Kevin Cunningham was back in the game, but it did not run as smooth as he hoped. Cunningham experienced some starting issues, which left him playing catch up with the other riders. Despite starting almost dead last and wrecking in lap two Cunningham put down the hammer and was able to grab second place in the AA Class before crossing the finish.
"I got off the an ok start I guess. I kicked and kicked and kick and finally got going. On the second lap I kind of took a bit of a tumble and I had to get my bearings back. I played catch up from there on. I started catching up to the top five guys when we all stopped for fuel. I then caught up to Braden Henthorn in the last corner and swooped by for a second place finish." Said Kevin Cunningham
Spider Graphix' Ryan Lane worked his way up through lapped riders to take the lead after getting a mid pack start.
Moose Racing's Ryan Lane grabbed anther win in the AA Class aboard his Dirtworks backed Honda 450R ATV at Monster Mountain in Canaan, IN
"We got out front pretty quick. Me and Hentorn got away from everybody for a little while and then I got by him. I pretty much rode by myself the rest of the day. It makes it tough because these guys are coming from a class behind you and they don't even have to catch you to beat you. Its hard to pace yourself when you are out there by yourself." Said Ryan Lane.
SICC Racing's Marshall Goings took the final spot on the Adult ATV Overall podium & also finished first in the A Open class
Marshall Goings from Veedersburg, IN grabbed the final spot on the Adult ATV class overall podium and first place in the A Open Class aboard his Honda 450R ATV.
#30 Fred Marley grabbed the A Open Class holeshot
"We got to a good start today. Me and Fred Marley hooked up and we caught Kevin (Cunningham) and Jay (Humphrey) and we just went from there. We got around them and we went on the next guy, then we caught Braden (Henthorn). We just tried to stay consistent all day and it all worked out in the end.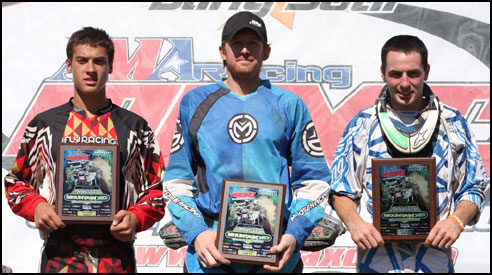 AMA Blingstar MAXC Adult ATV Overall Podium (left to right)
Marshall Goings (3rd), Ryan Lane (1st), Kevin Cunningham (3rd)
Rounding out the A Open class podium was Fred Marley in second and MAXC Round 6 Adult ATV overall winner Brycen Neal in third.
| | |
| --- | --- |
| | |
| #30 Fred Marley placed second in the A Open class at Monster Mountain | #17B Brycen Neal rounded out the A Open Class Podium in third |
There were over 15 riders in the C (15-24) class this round which made for some interesting racing. #911 Eric Kroger from Greensburg, IN took the win aboard his Honda 450R ATV. Thomas Hufferd placed second on his Yamaha YFZ450R ATV followed by Bryce Richer in third.
The 13-15 yrs 300cc 4 Stroke Quad class was one of the largest Youth ATV classes at Monster Mountain. #553 Corey Silverthorn from Cutler, IN took the win on his Honda ATV. #1 Tyler Weltich placed second and Travis Spencer rounded out the 13-15 yrs 300cc 4 Stroke Quad class podium.
Blingstar AMA MAXC Racing Series will make its seventh stop of the ten round series in Caanan, IN once again on September 8, 2012.